The Dress Code
First off I don't dress like this on a regular basis. I'm quite sure I would get strange looks if I did. The purpose of this article is to help those who don't know what to wear to their photoshoot. We want everyone to have great portraits and not look like the train wreck that I'm dressed in on this picture.
As you can see in this picture here I have a lot going on.  There are all kinds of colors, patterns and texture combinations that aren't working together. So rule number one keep it super simple!
Solid colors are your friend and work best when it comes photographs. Clothing that has a lot a texture and patterns like plaids don't typically photograph as well as a good solid color. We recommend if you wear a two piece outfit it is typically better to have your darker color on the bottom and a lighter color on the top.
Tips for High School Seniors and Teens
Outfits
Many of our high school senior and teen sessions we photograph on location. Depending on the length of your session we may be able to squeeze in multiple outfit changes to get a wide variety of images.  We suggest bringing a couple of casual outfits and one semi-formal/formal outfit.  Casual outfits could be as simple as a pair of jeans and a t-shirt. For the ladies a sundress and sandals is always a great choice.  For a semi-formal or formal think about your favorite party dress or perhaps a prom dress with your favorite pumps. For the guys a dress shirt and tie will usually make mom super happy.
Hair and Makeup
When it comes to photographing young ladies if they know well in advanced they're going to have their picture taken, without question they will have their hair done. We recommend if you're going to try out a new hairstyle give it a test run at least a week before your scheduled shoot. There's nothing more disappointing than to have hair issues the day of your shoot.
For the guys a shave in advance and remember you have at least have one good picture for Mom so comb and brush your hair.
When it comes to makeup less is more. Heavy makeup will look like heavy make up! So again keep it super simple. We prefer a natural look when it comes to make-up. If you think need a little help with your makeup, let us know! We have a few makeup artists that we can refer you to and they would be happy to help you out.
Accessories
I've saved the best for last. You've got the perfect clothes, makeup and hair is ready to go but we like to see accessories to tie it all together. Take for example the picture above of Kali. She has a nice orange dress, with shoes that match and she tied it together with a straw sun hat that has brown and orange accents. Accessories can be hats, purses, necklaces, bracelets, scarves, watches, earrings or whatever else you can think of. It doesn't stop there! If you have play a sport or a musical instrument we love to see that stuff in pictures too! So bring your bat, lacrosse stick, flute, violin, guitar, microphone or other instruments and equipment because we'll make your portrait about you!
Tips for Couples and Family Portraits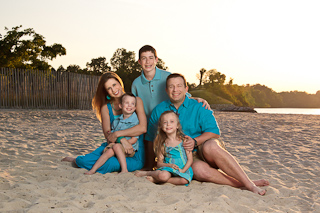 As we already said before it's best to keep things simple. While you don't have to dress every exactly the same, it helps to have some continuity to your portrait. If there will be multiple persons in your portrait start with getting an outfit together for one person in the party. Coordinate the remaining individuals outfits to the first outfit. Using the portrait here of the Hamby's, all the outfits are a differrent shade of blue but they all blend together. Keep in mind your outfits don't have to match in hue color either. The colors can also be compliments of each other like orange and blue, yellow and green, purple and gold. If you need ideas for outfits and color combinations I recommend checking out catalog sites like Old Navy, American Eagle Outfitters, Gap, etc.
If one person in your party has on formal attire make sure all person have on formal attire. If one person is where a casual outfit, make sure all person also have on a casual outfit. You don't want to be the oddball in the portrait that looks different from everyone else!